Pye Unicam PU4500 Capillary GC, older model but in good shape
Pye Unicam PU4500 Capillary GC
PU4500 is a range of low-cost, high performance chromatographs for the routine laboratory. It consist of six dedicated chromatographs; five standard isothermal versions – thermal conductivity, flame ionization, electron capture, nitrogen and flame photometric – plus a specific capillary dedicated version.
All shared the same temperature setting and monitoring via the LED display. The detector oven could hold two plug-in detectors and the column oven held two columns of any type. It was compatible with the same wide range of accessories used in other Pye Unicam chromatographs. Although not modular a second free standing amplifier could stand alongside.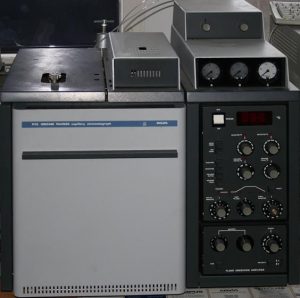 Further detectors, amplifiers and the usual wide variety of accessories could be added as needed.
The PU4500 is designed for ease of use, error free operation and improved technical performance.
Refurbished instruments information
If you find a product which is of interest for your lab, please ask for more information and
we will send you more photos and details about the instrument. If your lab is nearby or you are
making a trip to the Uppsala-Stockholm region in Sweden, please pay us a visit and investigate our stock
of instruments yourself!
Knivsta is situated just between Uppsala and Arlanda airport, 15 minutes by car to either
and 30 – 40 minutes by car from Stockholm.
Instrument condition:
All refurbished instruments and complete analytical systems from Elsichrom are thoroughly tested
in our own lab before delivery. All functions are tested to specifications and printed test results
are enclosed. As an extra safety precaution you as a customer get 3 months function warranty.
Shipping:
Within Scandinavia with DPD in boxes or on pallet, depending on size of shipment.
International shipping is done via truck, air freight or DPD, whichever is most convenient
for the customer. In connection with an order, we will send you a shipping cost quotation
before any delivery takes place.
Delivery time:
Normally 5 – 10 days depending on size of order.
Payment terms:
Order can be paid directly via internet transfer to Elsichrom. All details can be found on
the proforma invoice. Shipment is done immediately after prepayment.