Clarity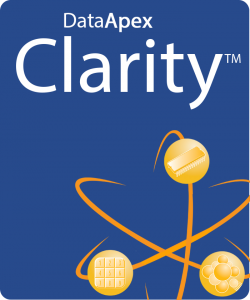 Clarity is an advanced Chromatography Data Station (CDS) with optional software modules for data acquisition, processing and instrument control. Its wide range of data acquisition interfaces (A/D converters, LAN, USB, RS232) allows connection to any GC or LC chromatograph.
Up to four independent chromatography systems can be simultaneously connected, each can acquire up to 32 signals.
See examples of Clarity configurations.
You can switch any time between English, French, German, Russian, Spanish and Chinese localization.
Control modules provide integrated control of selected instruments such as GCs, pumps, detectors, autosamplers, etc.
Extensions provide functions for specific separation techniques such as PDA, GPC analysis, Mass spectrometry or SST.
Clarity2Go in your iPhone or Android powered mobile devices allows you to monitor running analyses from multiple installations of Clarity.
Clarity comes with extensive free support from DataApex as well as from the growing community of users in the Clarity Forum. Unlike many large corporations, the DataApex Company is in close contact with its users.
Next steps
Refurbished instruments information
If you find a product which is of interest for your lab, please ask for more information and
we will send you more photos and details about the instrument. If your lab is nearby or you are
making a trip to the Uppsala-Stockholm region in Sweden, please pay us a visit and investigate our stock
of instruments yourself!
Knivsta is situated just between Uppsala and Arlanda airport, 15 minutes by car to either
and 30 – 40 minutes by car from Stockholm.
Instrument condition:
All refurbished instruments and complete analytical systems from Elsichrom are thoroughly tested
in our own lab before delivery. All functions are tested to specifications and printed test results
are enclosed. As an extra safety precaution you as a customer get 3 months function warranty.
Shipping:
Within Scandinavia with DPD in boxes or on pallet, depending on size of shipment.
International shipping is done via truck, air freight or DPD, whichever is most convenient
for the customer. In connection with an order, we will send you a shipping cost quotation
before any delivery takes place.
Delivery time:
Normally 5 – 10 days depending on size of order.
Payment terms:
Order can be paid directly via internet transfer to Elsichrom. All details can be found on
the proforma invoice. Shipment is done immediately after prepayment.